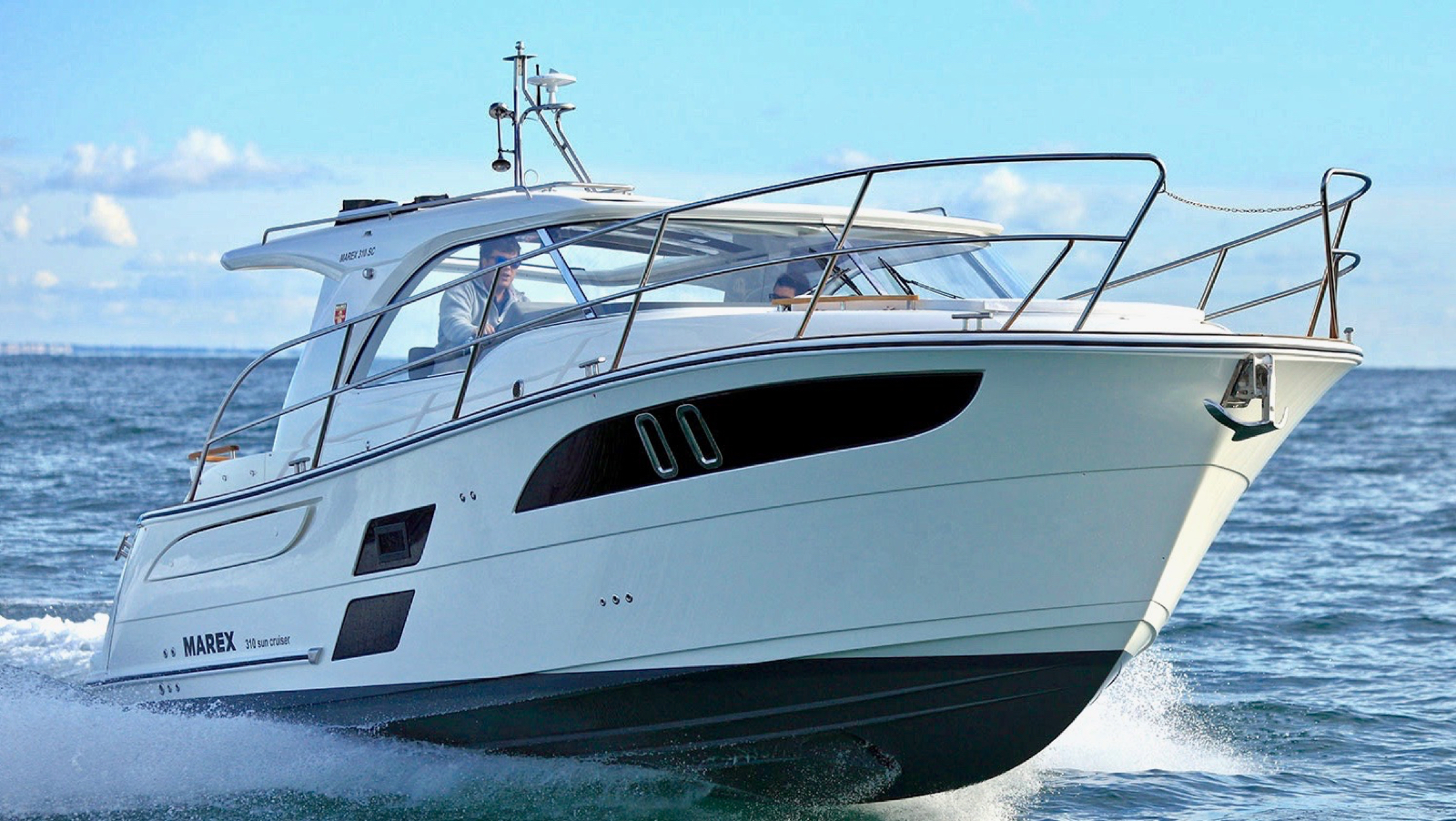 Triple Award Winner
Marex 310 Sun Cruiser, New South Wales
Introducing the spectacular Marex 310 SC, now available on the Australian market. If you have been boating in Europe any time in the past four decades, you will know the Marex reputation for building stylish, high-quality, functional and seaworthy boats that will take on almost any conditions.
Marex offer functional designs with a balanced combination of luxurious lifestyle and practicality providing you with a relaxing boating experience.
The Marex 310 Sun Cruiser (SC) is a triple award winner having received:
* 2017 Award for European Power Boat of the Year.
* Winner of the 2017 Motor Boat Magazine award.
* Winner of the 2018 German Design Award.
According to MOTORBOAT & YACHTING magazine (U.K.), the Marex 310 SC is a "Giant killer". It's "the 31foot star that is as fast as a sport boat, as versatile as a coupe, as solid as a trawler and better value than any of them!"
Enquire now for details on our introductory offer for the Marex 310 SC, a brilliant boat at a brilliant (but limited time) price.
The Marex 310 is the perfect cockpit cruiser for a couple or a family. The Marex 310 SC impresses with enormous space in the cockpit seating group. It has a smart wraparound cockpit seating that stretches all the way from the helm position to the passenger seat with space for ten people around the table.
This invites you to the most pleasant socialising with friends. Both the port-side and starboard side can be used as sun bed! Three in total. This will also give you the option to have more friends and family to sleep over. The whole sitting group as well as the bathing platform has lots of storage lockers. The benches aft that can also double up as a lovely seat. A perfect place to relax on sunny days.
Excellent Accommodation
The boat has plenty of accommodation below deck. The great feeling of space is because of the enormous companionway door, that splits the cockpit area and the lower deck. This allows natural light to infiltrate the galley/hallway area and increase the feeling of space remarkably. In the front cabin the large hull windows ensure that the cabin gets a lot of light and a great view out. A perfect view to wake up to. The mid cabin has a double berth, a decent hanging wardrobe and room to change next to the bed. We have also placed in this cabin, a large hull window in front of the bed. Between the two cabins is an amazingly spacious and well finished bathroom.
Clever Canopy
You will find the cockpit safe and sociable protected by two sliding sunroof sections and the worlds quickest canopy system. It closes by pulling out the canopy from vertical side lockers around the cockpit like a curtain. This extremely flexible solution makes it possible to set up the canopy within a matter of a few seconds. The boat has a two-person helm seats in front of the dashboard and a single seat on the starboard side. That means there a space for three people facing forward, when you are under way.
Choices Like No Other Boats
Building award-winning boats for over 45 years, Marex are one of the few manufacturers that offer a wide variety of engine/propulsion options in their designs. We have shown this Marex 310 with a Volvo Penta diesel driving a sterndrive unit, a very popular combination. They offer other combinations including the choice of diesel or petrol, Volvo or Mercury and several horsepower options. No other builder offers you such choice in a boat of this size when ordering.
Price shown is for the Base Boat with a single Volvo Penta D4-300 EVC DPH (300 HP) diesel engine with Sterndrive.
Please contact us for complete listing of inclusions and options available.
NB: Pricing current at time of publication and subject to change without notice. Best efforts have been made to provide the correct information about this boat in good faith but cannot be garanteed to be correct. Errors or omissions may have occured.